Due to Popular Demand Uncork & Unwind is Back!  
Great news for all the candle and wine enthusiasts! Sanibel Candle Company is excited to announce the addition new dates for our highly sought-after Uncork & Unwind event. The overwhelming response has prompted us to offer more opportunities for you to indulge in an evening of candle making and your love of wine.
Join us for an Evening of Wine and Candle Making at The Sanibel Candle Company with The Golden Rind.
Indulge your senses in an unforgettable experience as The Sanibel Candle Company proudly presents an exclusive collaboration with The Golden Rind. Mark your calendars for Tuesday, December 19th, from 6:00 PM to 8:00 PM , and get ready to embark on a journey of delightful aromas and exquisite flavors.

1. Wine Tasting: Savor the rich and diverse flavors of four carefully curated wines, thoughtfully selected by The Golden Rind's expert sommeliers. Each wine will be a delightful surprise for your palate.

2. Candle Making: Unleash your creativity and craft your very own custom scented candle at The Sanibel Candle Company's renowned candle making experience.  Choose from over 65 fragrances and design a candle that embodies your unique taste and personality.

3. Mix and Blend Your Own Custom Scent: Our team of experienced Scent Specialists will be on hand to guide you through the candle-making process, offering tips and tricks to create the perfect candle that will fill your home with warmth and harmony.

4. Exclusive Atmosphere: This event will be an intimate gathering, as seating is limited. A great way to cool off, beat the heat and connect with fellow attendees who share a passion for wine, candle artistry, and culinary delights.

Ticket Information:
To secure your spot at this event, tickets are priced at $60 each. Due to the limited seating available, we recommend purchasing your tickets in advance to ensure your reservation. This price includes sampling 4 wines, 1 Candle Making Experience Vessel (over 30 different styles and sizes to choose from) along with the cost of the candle making experience. More information about the Candle Making Experience is available here.
 *Charcuterie Boards are available for an additional charge and must be pre-ordered prior to the event : To order please call Alex @ 239.313.6001. Please visit goldenrind.com for menus. 

Date & Time:
Tuesday, December 19th • 6:00 PM - 8:00 PM

Location:
The Sanibel Candle Company
13499 South Cleveland Ave. Suit 107
Ft. Myers FL 33907

How to Reserve Your Seat:
To purchase tickets and reserve your seat, please select a time from the calendar below, and complete the checkout process. 

Age Restriction:
Guests must be 21 years or older to attend this event as alcoholic beverages will be served.

Contact Information:
If you have any questions or need further assistance, please don't hesitate to contact us at
Phone: 239-579-0573 
Email: info@sanibelcandle.com

Regular price
Sale price
$60.00
Unit price
per
Sale
Sold out
Share
View full details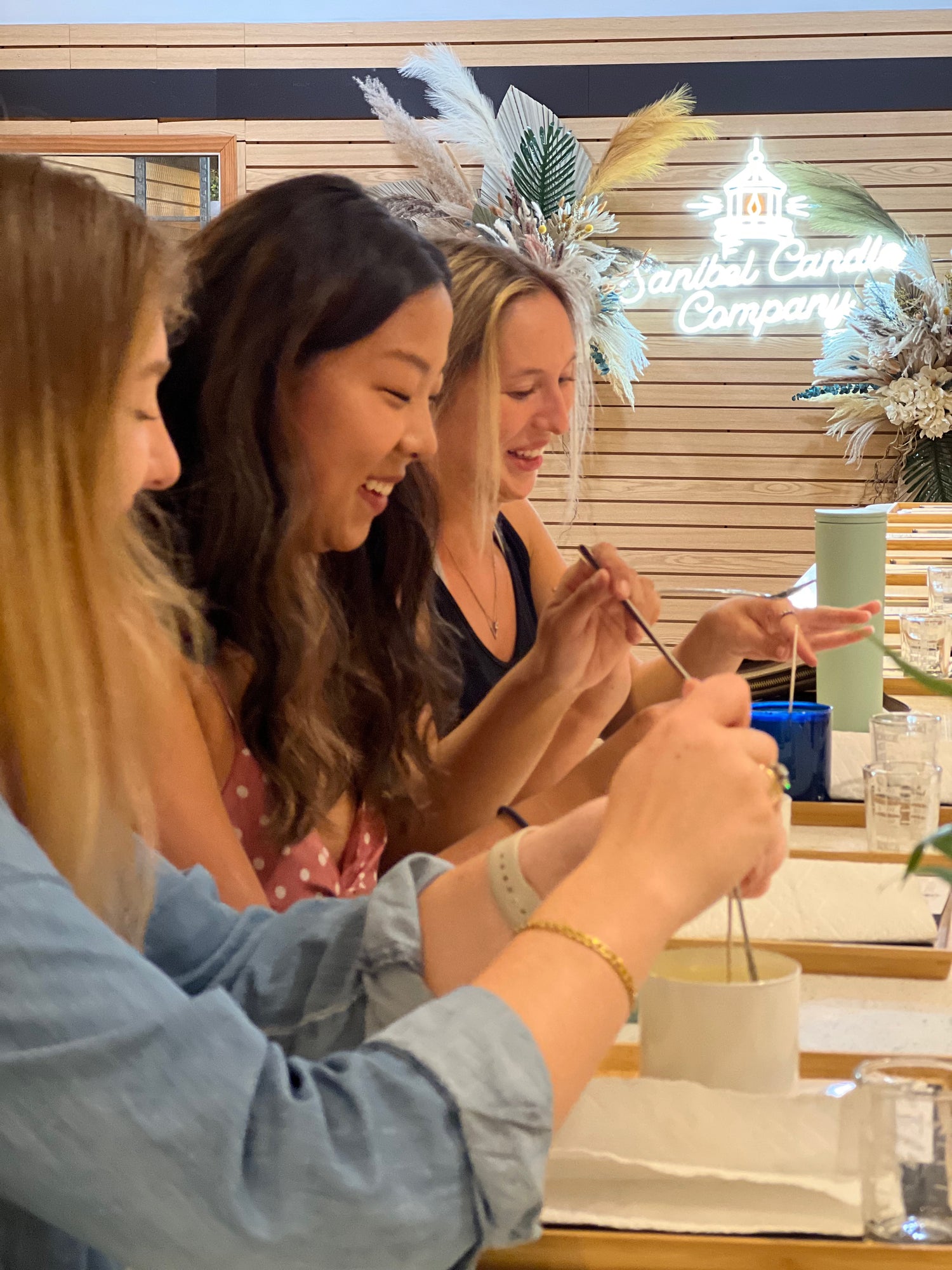 Learn More
Still have questions? What to know what to expect? Visit our FAQ page to learn more about our Candle Making Experience.
FAQ Page
Wonderful event
We had a great time at the unwind and uncork event. Two suggestions. Send out a reminder a week in advance about food that can be purchased. We came there hungry. Also bring wine there so we can buy it that night.
So much fun!
I had so much fun with my friends making amazing smelling candles and trying some delicious wines. The team at Sanibel Candle Company is so nice and inviting and we had a great time.
Candle class
I loved the idea of this combo class and bought 2 tickets. The wines were lovely and the candle is nice. I thought the charcuterie boards were included. I came in before class to ask if there was going to be served. I was told yes. I thought the price was too high without something to eat. Maybe put out cheese and crackers or some sort of snack when serving alcohol. I wish you great success.
Great Candle! Few flubs with the event
First let me say that I love my candle and the owner's wife was an absolute gem to work with with!! Candle retails for around $35... event including wine tasting was $60. Normally, I would expect a 4oz pour in a nice stemware. This was about a 2oz pour in an odd small glass. There was no water served, which was tough on a wine tasting. There was also no food given at the event, which was fine, but the only option was to buy a pre-made charcuterie box that was $26 and had one type of meat in it. Worst yet, the one type of meat was VERY spicy... and again.. no water is provided. None the less, the candle was amazing, and I purchased $65 more in candles, and my friends bought some as well. I was slightly taken aback when the owner made an announcement asking for tips for their employees. After spending $60 on the event, $65 more in pre-made take home candles, and $26 on a charcuterie box that could barely be eaten... I did not feel like I needed to tip his hourly employees. The worst part was that he called out one of his employees to the crowd and called her a "tip monger". She was clearly mortified. I'm not sure if he made this comments because he had a few glasses of wine or if he's normally that harsh. The next day, I went to pick up our 5 candles, and called and asked that since the parking lot is being resurfaced and I needed to park further away, if it would be possible for someone to meet me at the driveway with the candles to help me load them into my car. While on the phone, I could hear the owner in the background come up with every reason why NOT to help me, leaving the poor girl on the phone to stammer. While I truly enjoy my candle, I would probably not attend a class again. For the cost, i would just go in and make my candle.
Dear Tracy,
We sincerely appreciate your candid feedback about your recent experience at our private event, and we would like to extend our deepest apologies for falling short of your expectations. Your honest insights are invaluable to us as we continually strive to improve and provide the best possible experience for our valued customers.
We are genuinely glad to hear that you enjoyed the quality of our candles and the interaction with the owner's wife. However, we deeply regret that certain aspects of the event did not meet your standards, and for this, we are truly sorry.
This was our first ever event and your points regarding the wine tasting, glassware size, absence of water, and the charcuterie board have been taken to heart. We understand how these elements can greatly impact your overall experience, and we are are in the process of making all necessary changes to enhance these aspects for our future events.
Regarding the incident with the employee and the owner's comments, we are deeply embarrassed and apologetic. Such behavior is entirely against our principles and the respectful atmosphere we aim to uphold. We are taking immediate steps to address this matter internally and ensure that all of our team members are treated with the utmost respect and dignity.
Furthermore, we would like to extend our apologies for the inconvenience you faced during the candle pickup. Our response fell short of the level of assistance you rightfully expected, and we are genuinely sorry for any frustration this may have caused.
Your feedback has provided us with a valuable learning opportunity, and we are dedicated to making the necessary improvements to prevent similar situations in the future. We truly hope that you would consider giving us another chance to provide you with an exceptional experience that aligns with the high standards we set for ourselves.
In the meantime, if there is anything we can do to rectify the situation or address any remaining concerns you might have, please do not hesitate to reach out to us directly. Your satisfaction remains our top priority, and we are committed to restoring your faith in Sanibel Candle Company.
Warm regards,
Tom